This article is by Sachin Arora, a BTTN Raptors correspondant. He also contributes on other sites and is a Bleacher Report community leader.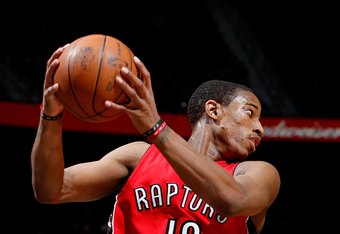 This week was another losing week, and the Raptors seem to be plunging to the bottom of the Eastern conference. The team has not been able to take care of the basketball and have been giving away far too many points at the line.
Injuries have still been a problem. The team missed leading scorer Andrea Bargnani for all of their games this week, point guards Jose Calderon and Jerryd Bayless have been hurt, and Amir Johnson is not 100 percent. It may seem a bit obvious, but this team needs to get healthy in order to play to their full potential.
The team has shown what they can do in little bursts, but can't seem to do it consistently enough. The problem with the team has not been the effort, they just don't have enough talent right now.
Record: 1-3
Performance on a scale of 1-10: 7
Here is a recap of the four games:
Raptors @ Grizzlies, L 85-96
Positives
Defensively, the team was solid. Linas Kleiza continued his solid play, leading the way with 22 points, while DeMar DeRozan collected 18. Joey Dorsey collected a double double, and the team was solid on the boards as well.
Negatives
Offensively, the team just didn't get it done. The way the Raps play, 85 points will not get you a win unless you are playing sparkling defense, and they just did not do that. The second quarter killed them, and this seems to be a pattern. The turnovers were another huge problem, and the whole team seemed to have soaked their fingers with butter instead of chalk before the game.
Raptors @ Mavericks, W 84-76
Positives
This game was a terrific effort on an extremely shorthanded team. At a point, the team only had seven usable players, and they still scrapped it out and managed to take down one of the top contenders in the NBA today. Ed Davis showed his true potential vs the Mavs and DeMar DeRozan continued his great play. Defensively, the team was fantastic.
Negatives
Again, the second quarter was a problem for the Raps. Also, offensively, the team looked pretty dead at times, but they managed to pull out a great win.
Raptors @ Rockets, L 114-105
Positives
DeMar DeRozan exploded for a career high 37-point effort as he contined his stellar play. Amir Johnson was very solid with a double-double as the Raptors' offense wasn't the problem.
Negatives
Defensively, this was just a bad game for the team. The Rockets have an explosive offense, and the Raps just couldn't contain them. The second quarter was again atrocious for the Raptors.
Raptors vs Celtics, L 93-79
Positives
This game was a lot closer than it appears on the scoreboard. The Raptors were in the game and gave the Eastern Conference champs a tough time despite being short-benched and outmatched by talent. It seems like a neverending loop, but once again DeMar DeRozan had a terrific game, finishing with 27 points, and he is showing that he can be a potent offensive player in the NBA. Joey Dorsey and Amir Johnson both recorded double-doubles, and overall, the team gave a good effort.
Negatives
While they did give a good effort, it didn't translate into a win. When Joey Dorsey is your second-highest scorer (no disrespect), something is wrong. Yes, the team is missing Andrea Bargnani, but it seemed like DeRozan was the only one trying to make plays.
Overall, you can see the effort is there, but the team still hasn't figured out how to play well on a consistent basis and this is resulting in more losses than wins.
Ask Sachin
"Watching Demar DeRozan progress, what type of player do you see him being like and can he be a viable number 1 option in this league?" – Punit Saraon, Raptors fan page on Facebook
As a Raptors fan, the quick answer would be "I hope so." DeRozan certainly has shown what he can do. He's extremely athletic, has a quick step, and is starting to show signs of consistency. His jump shot has been terrific as of late, and he certainly has the potential to be an all-star in this league. Going into the future, the most important thing will be his work ethic.
"Moving forward, do you think the Raps would be better with this roster and a few more draft picks or would you see them excelling more with trades involving key guys like Calderon, Weems etc." – Tyril Ong, Raptors fan page on Facebook
Right now, this roster is very young, but it lacks the talent to compete. However, It is also loaded with tons of potential. A trade doesn't seem necessary at this point of the season; just letting the young guys develop seems to be the best plan for the future. I think the Raptors also need one or two more players for their core, which can be achieved by picking up young players, whether it's through the draft or free agency. It will be an interesting offseason.
To ask Sachin a question to be answered next week, please leave a comment, below.