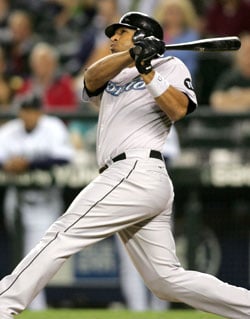 Vernon Wells - Traded to Anaheim
Wow.
If Alex Anthopolous somehow pulls this trade off without giving Anaheim any cash, today will mark perhaps the best day in Jays history this decade - a truly refreshing deal that will free up tons of cash for Toronto to spend on free agents next winter.
The way AA has architect-ed this current roster is pretty astounding, especially the platoons likely to occur. Napoli will add much-needed left-handed batting and is likely to rotate between catcher, first base, and DH, perhaps receiving as many as 450 at-bats, including always starting against lefties. Rivera has been viewed as more of a pawn in this blockbuster, but he does have some value and, pending a bounceback, has starting upside.
Obviously, freeing up the contract of Vernon Wells is the biggest positive of the entire trade, as he had 4/86. This could open the door for the huge Prince Fielder deal I have been speculating over for a long time.
Sleep well, Jays fans, the positive effects of this deal should be felt for years to come.